Approvals
The courses offered by Program Services are approved for continuing education credit by the following credentialing organizations. Please carefully review this page before registering for a live seminar, home study or on-line offering.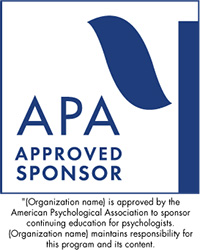 Program Services is approved by the American Psychological Association to sponsor continuing education for psychologists. Program Services maintains responsibility for the program and its contents.

Alabama State Board of Social Work Examiners #0339

Florida Certification Board, Inc. #159A

Social Work State Licensing Board Approval Information for Continuing Education- Accepts Program Services Credits- Accepts our national approvals Alabama, Arizona, California, Connecticut, Delaware, Florida, Georgia, Idaho, Illinois, Indiana, Kentucky, Missouri, Nebraska, New Hampshire, Oregon, Pennsylvania, Tennessee, Texas, Utah, Vermont, Washington, Wisconsin, Accepts other state SW boards Louisiana, Maryland, Massachusetts, Michigan, Mississippi, New Jersey, North Dakota, Rhode Island, South Carolina, South Dakota, Texas, Vermont, Virginia, West Virginia Cross-disciplinary, no specified requirements/limitations or self- submit after the fact Alaska, Arkansas, Colorado, Kansas, Maine, Nevada, North Carolina, Ohio, Oklahoma, Wyoming, New Mexico Does not approve Program Services credits Hawaii, Iowa, Minnesota, Montana

National Association of Alcohol and Drug Abuse Counselors (NAADAC) #86395

Program Services has been approved by NBCC as an Approved Continuing Education Provider #: 5978. Programs that do not qualify for NBCC credit are clearly identified. Program Services is solely responsible for all aspects of the programs.

Florida Board of Nursing FBN #2456 CEBroker provider # 50-1651

Florida Board of Licensed Clinical Social Workers, Licensed Marriage and Family Therapists, and Licensed Mental Health Counselors: BAP #162 CEBroker provider # 50-1651

Florida Board of Psychology. BAP#162 CEBroker provider # 50-1651

Florida Office of School Psychology. BAP#162 CEBroker provider # 50-1651

District of Columbia Board of Nursing

Georgia Board of Nursing

South Carolina Board of Nursing
Many of our course offerings are approved for other Florida professions which are not listed above. Please Click Here for a complete listing of all our other Florida board and council approvals.
If you have any questions about continuing education credit for any of our courses, please contact your state approval board. See our list of resources to determine the continuing education requirements for your certification.
CE Requirements Information & Resources